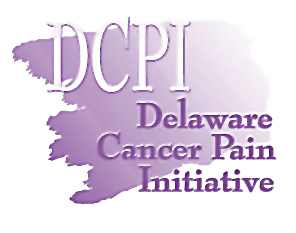 The Delaware Cancer Pain Initiative (DCPI) is a statewide, non-profit
organization, committed to providing information regarding optimal
cancer pain relief through education, advocacy, and support.

Our mission is to:

EDUCATE individuals that cancer pain CAN be relieved

ADVOCATE equal access to research based cancer pain management

SUPPORT the mission of our state's pain initiative

ELIMINATE barriers to effective pain management

"The tragedy is that most pain goes untreated, under-treated, or improperly treated despite the medical technology available to relieve most pain. As a result, millions of Americans suffer needlessly."
James Campbell, MD, Director of Blaustein Pain Treatment
Center, Johns Hopkins Medical Center - March 2002
The information on this website is shared for educational purposes only and is not a substitute for medical evaluation,
consultation or treatment by a qualified professional. DCPI disclaims any liability or responsibility for accuracy,
completeness and usefulness of this material.

updated: April 12, 2003
©2002 Delaware Cancer Pain Initiative