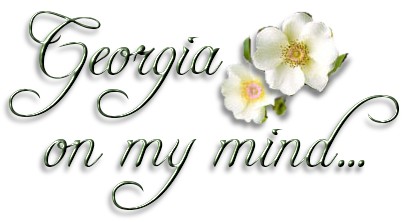 Special pages for Molly & Brady...

State Song

Georgia On My Mind

Melodies bring memories
That linger in my heart
Make me think of Georgia
Why did we ever part?
Some sweet day when blossoms fall
And all the world's a song
I'll go back to Georgia
'Cause that's where I belong.
Georgia, Georgia, the whole day through
Just an old sweet song keeps Georgia on my mind.
Georgia, Georgia, a song of you
Comes as sweet and clear as moonlight through the pines.
Other arms reach out to me
Other eyes smile tenderly
Still in peaceful dreams I see
The road leads back to you.
Georgia, Georgia, no peace I find
Just an old sweet song keeps Georgia on my mind.



The current Great Seal of Georgia was adopted by the State Constitution of 1798. On its front side appear three pillars supporting an arch, emblematic of the three branches of government - the legislative, judicial and executive. A man stands with a drawn sword defending the Constitution whose principles are wisdom, justice and moderation.

The reverse of the Seal shows a ship with cotton and tobacco, and a man plowing, representing the agriculture and commerce of the Seal's motto. In 1914, the date on the Seal was changed from 1799 to 1776 to correspond with the date of the Declaration of Independence. By law, the Secretary of State is the official custodian of the Great Seal, which is attached to official papers by executive order of the Governor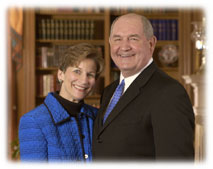 Governor Sonny Perdue & his wife, Mary
Georgia's 81st Governor
http://www.gov.state.ga.us/document.asp?doc=sonny

Governor Perdue is married to the former Mary Ruff of Atlanta, Georgia. The couple has four children: Leigh, a speech therapist; Lara, a software consultant in Atlanta; Jim, a UGA graduate who was recently called into the ministry and currently attends Southeastern Seminary in Wake Forest, North Carolina; and Dan, an undergraduate student at Middle Georgia College. They also have twin granddaughters, Mary Kate and Sunni. In addition, Mary and Sonny serve as foster parents for newborns awaiting adoption.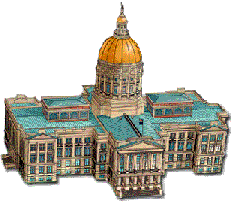 Georgia State Capitol Building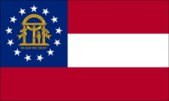 2003 Georgia State Flag

Georgia, page one
Georgia, page two
Christmas in Dixie - page one
Christmas in Dixie - page two

Home || Spring || Summer || Autumn || Winter
St. Patrick's Day || April Fool's Day || Easter || Mother's Day
Memorial Day || Father's Day || Independence Day || Friendship Day
Labor Day || Back to School || Grandparent's Day || Columbus Day
Halloween || Election & Return Day || Veteran's Day || Thanksgiving
Christmas || Hanukkah || Nutcracker Ballet || Secret Santa
New Year's Day || Martin Luther King, Jr. || Kwanzaa
Groundhog Day || Valentine's Day || President's Day || Mardi Gras
Arbor Day || Happy Birthday || Webrings || Awards || Flag Day
January || February || March || April || [May || June || July
August || September || October || November || December


©2004-06 all rights reserved
updated: June 27, 2006