EARTH DAY
Earth Day History, 1970
March 21st -- Vernal Equinox

Earth Day - a day to celebrate the natural wonders of our planet, "to think about Earth's tender seedlings of life" was first proposed by John McConnell in early October 1969 to the San Francisco Board of Supervisors and other community leaders interested in caring for and improving our natural environment. On November 25, 1969, the final day of the UNESCO National Conference, "Man, and His Environment," Cynthia Wayburn, one of the youth leaders on Mr. McConnell's Earth Day Committee, presented the idea and showed the Earth Flag during this presentation at the luncheon. Many expressed support for the idea.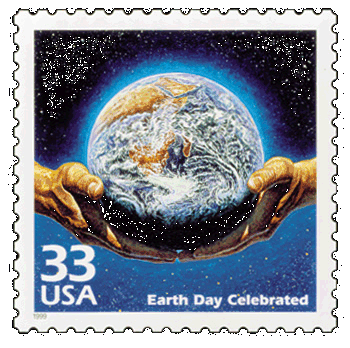 ©1999 USPS
DATE OF EARTH DAY

From the beginning the proposal called for observance of Earth Day on March 21st, which is the Vernal Equinox. This is the moment when night and day are equal throughout the Earth -- reminding us of Earth's systems of balance which humanity has partially upset and needs to restore. From earliest history, people of many cultures have celebrated this day as the beginning of spring - symbolizing renewal of life. Three thousand years ago men built Stonehenge with stones arranged to measure the very moment of the Vernal Equinox.

In 1970, Americans took part in the first Earth Day, the largest grass roots demonstration in history. Over twenty million people attended marches, rallies, teach-ins, and concerts in the parks which took place in communities and college campuses across the country. Together, they pledged to attack pollution and clean up the environment.

From this awareness about our responsibilities for the Earth came clean air and clean water legislation, endangered species and land preservation acts, and the birth of federal and state agencies with the responsibility for regulating and controlling pollution.

Significant progress has been made since that first Earth Day, but we know that back then we had only begun to understand the problems. Today, we are coming to grips with the more complicated products of our society and lifestyles such as acid rain, smog, global warming, toxic waste and ground water contamination. It is clear that we must think in terms of individual actions and partnerships to prevent pollution, reduce waste and conserve energy.